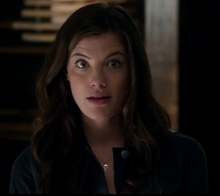 Parker Rowland was Auggie Anderson's ex-girlfriend and fiance as well as the younger sister of Auggie's friend Billy, one of the soldiers in his old unit in Iraq.
Auggie proposed early in season 3. She accept while in a holiday in the red sea. There were later taken hostage where Auggie tells her he is in the CIA. She later leaves on the next episode leaving Auggie heart broken
Ad blocker interference detected!
Wikia is a free-to-use site that makes money from advertising. We have a modified experience for viewers using ad blockers

Wikia is not accessible if you've made further modifications. Remove the custom ad blocker rule(s) and the page will load as expected.