Full Name_ Henry Wilcox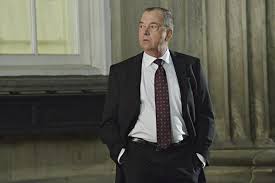 Age= 60's
Affiliation= CIA
Status= Deceased
Relative= Jai Wilcox
First Appearance In The Light
Last Appearance=Trompe Le Monde
Episode Count= 25
Actor= [[Greory Itzin]
Henry Wilcox was Jai Wilcox's militant father. Henry Wilcox was the Director of Clandestine Affairs before Arthur Campbell.
He left Jai's mother, fostering ill will with his son. Even now, he and his son have a tense relationship, and his ambitions to return to the CIA have made him a disliked person within the CIA. Wilcox's legacy with the CIA is something that Arthur and Joan Campbell are trying to change.
Season 4 Henry Wilcox is the main antagonist of the series & his role is very pivotal. In the season 4 finale Trompe Le Monde Henry Wilcox is shot to death by Annie Walker in an alley in Hong Kong China.
Episodes Featured
The Wake-Up Bomb
What's The Frequency, Kenneth