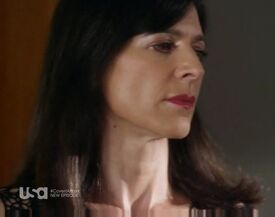 Caitlyn Cook was the assistant to Ryan McQuaid at McQuaid Security. She made her first appearance in "False Skorpion," the second episode of Season Five, and appeared in a total of six episodes during the series' final season. Caitlyn was mostly shown working closely with Arthur Campbell, and was even part of the action in "Embassy Row." In the episode, "Sensitive Euro Man," Caitlyn turned heel after she was revealed to be behind a plot to frame McQuaid for the Chicago bombing. She was in league with Aleksandre Belenko, and they planned to frame McQuaid for a bomb attack at the signing of a treaty. After shooting McQuaid in a restroom, the villainous Caitlyn engaged in a battle with Annie, which ended with Belenko killing her with two gunshots.
Ad blocker interference detected!
Wikia is a free-to-use site that makes money from advertising. We have a modified experience for viewers using ad blockers

Wikia is not accessible if you've made further modifications. Remove the custom ad blocker rule(s) and the page will load as expected.